Spotlight Overview Pages
The Spotlight Overview pages, such as Applications and Workflows in Application Spotlight, and Users and Hosts in Platform Spotlight, share a common format for displaying information, and provide similar navigation controls. All Overview pages include tabular information that you can sort and filter. Some Overview pages include highlight tiles, Top Memory-Cost Apps and Top Small-Files Apps (for YARN clusters).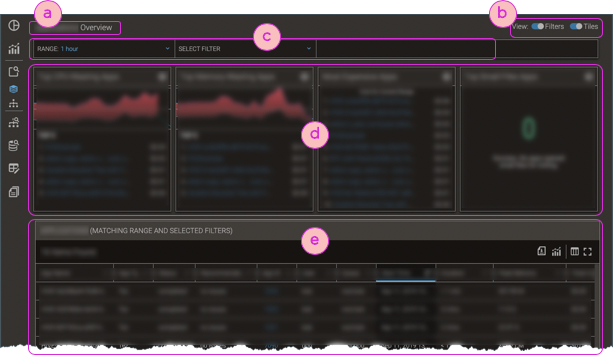 ⓐ
Title of the overview page. The title matches the name of the currently selected left-nav's Spotlight menu item; for example, selecting App Spotlight > Applications shows the Applications Overview.

For details about the overview pages of a given Spotlight product, see the applicable User's Guide; for example, Application Spotlight Overviews & Reports, Query Spotlight Overviews, or any of the Overviews pages in the Platform Spotlight User's Guide.
ⓑ
Hide/show filter bars and, for pages with highlight tiles, hide/show highlight tiles.
ⓒ
Filter Bars; for details, see Filter Bars.
ⓓ
Highlight tiles (not in all overviews), filtered per the current filter bar settings.
ⓔ
Table of items that meet the applied filters' criteria; for details about table elements and filtering, see Tables.